Above photo: Tim (middle), with the Communications and Brand Experience team, volunteering at the Ronald McDonald house where they baked and decorated gingerbread houses for the families staying in the house.
Timothy Thompson is one of our ING Eagles in 2021. Tim, was placed within ING as 'Internal Communications and Events Intern', part of the Communications and Brand Experience team. Tim is currently still an Intern at ING, having started in October and is finishing in the summer of 2022. We are grateful that Tim was willing to write about his experience for us:
Tell us a bit about your background, including your education and what you wanted to do as a career:
I graduated with a BA in History with Politics from the University of Liverpool knowing that finding work during the pandemic was going to be difficult. All my friends were looking at doing Masters degrees because they were applying but not getting onto any graduate schemes and I was worried about my chances. I had been working as a maths tutor in secondary schools and really enjoyed it but was not sure teaching was the career for me. I was left unsure what I wanted to do. I had a friend show me an intern position to do art and archiving with ING Eagles and thought I'd apply.
Tell us about your experience of the Eagles programme
I was applying for the ING eagles programme that gave me the option of 23 different intern positions. I got through to the assessment day where I learnt more about the programme and about the different internship positions. I had done quite a lot of interview preparation and had researched all about ING and it's Orange Code. My tip for any future applicants is to put that research in. I found out that it was this enthusiasm and demonstration of 'doing the hard work' that really helped. The applicant day was really useful as they also had all the previous interns talk about their roles and experience at ING. You could apply for two roles so I also applied to the Agile Coach one, thinking my tutoring past would be useful. The Communications and Brand Experience team looked at my CV and decided to offer me an interview. I was successful and am so glad it worked out that way.
Once past the assessment day I felt very supported by ELBA. They organised practice interviews with themselves and volunteers at Barclays, and once we were successful, they provided the two weeks training before we started.
And what about the training?
The training provided by ELBA was great. There were so many opportunities for questions that by the end of the two weeks I felt comfortable to go in and get stuck in. The training was so comprehensive, we learned about business English, email management, project management, and my favourite, excel!
Personal Impact Training with Steve Morris was a highlight, learning how our feelings and thinking influence our behaviour, and how to deal with different situations in work. We had to do a group presentation and were given plenty of time to practice and fine tune with Steve. The training flew by and I felt I had gotten to know some of my cohort well. It was comforting knowing I knew people like me that I could have lunch within the office.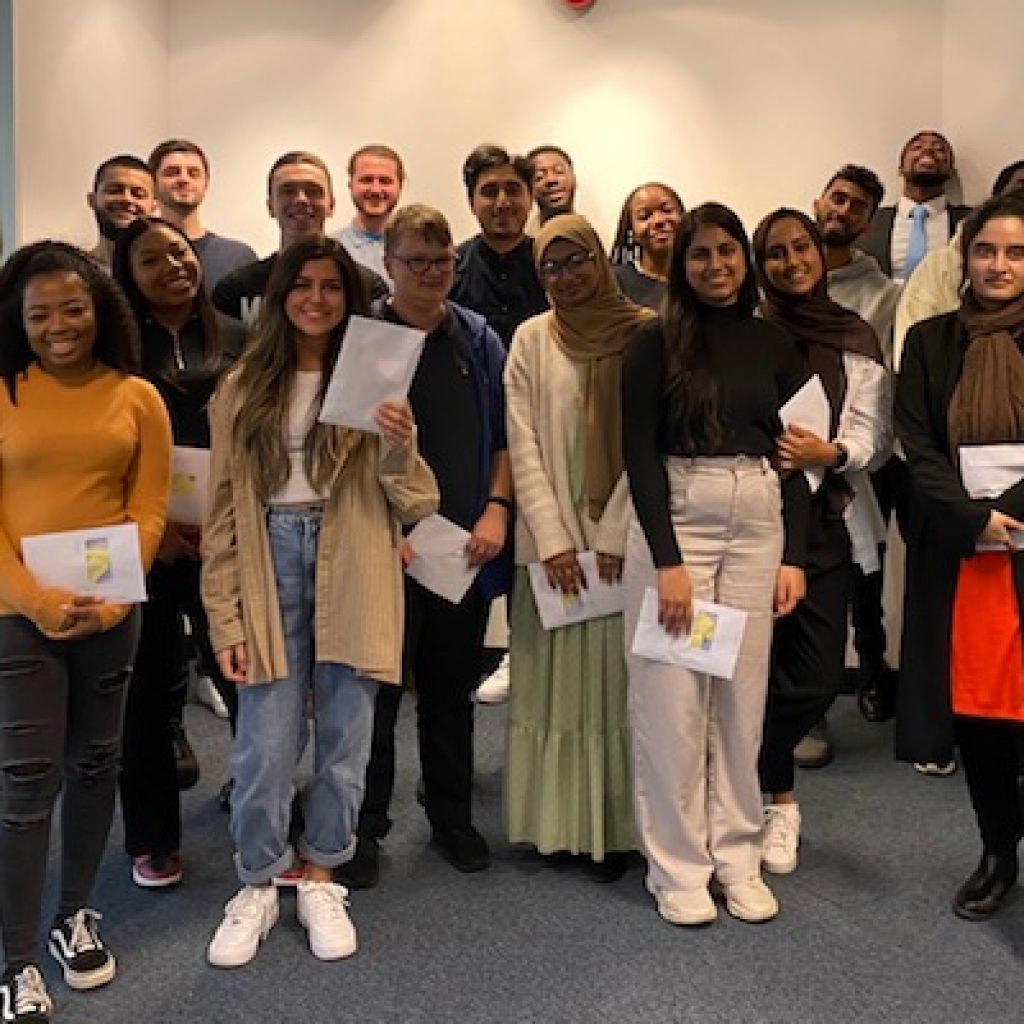 How was your experience of the internship/placement?
During all the training we were told how friendly everyone was, and that we'd be able to ask questions and network. So far, I have felt very supported by my manager and team overall, with plenty of opportunities to learn. I have been so welcomed and feel part of the team and am excited to see what the future holds. This experience so far has taught me that I like being in Communications and that I think that is what I hope to have a career in.