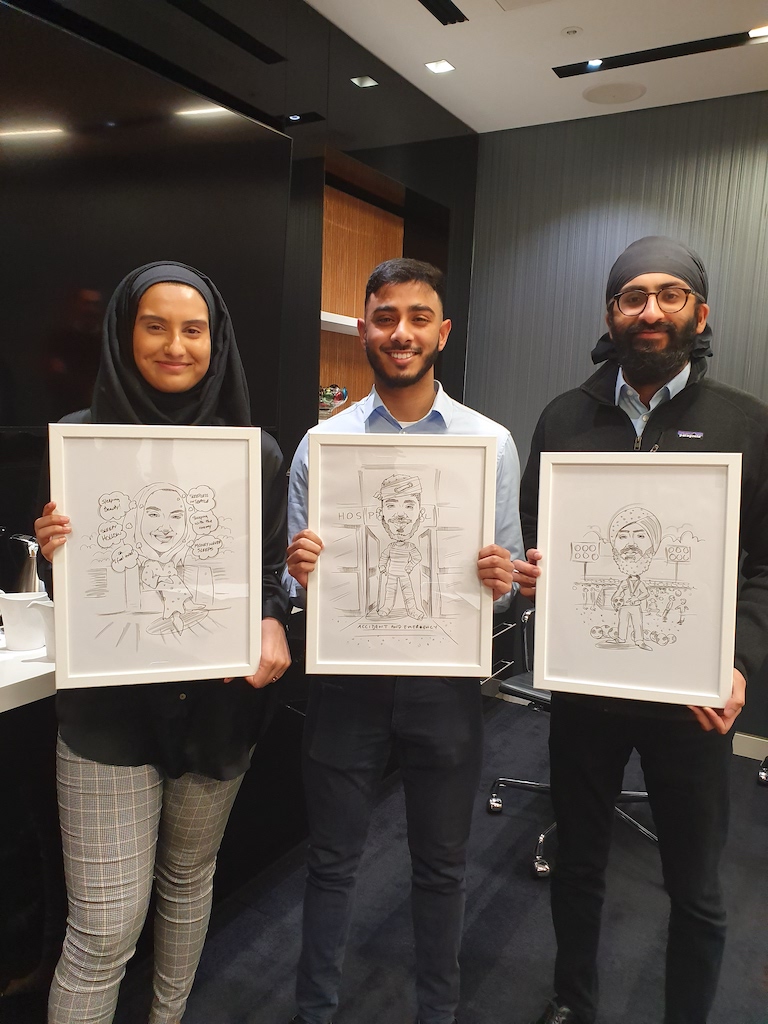 Below photo, from left: Nadiya, Harkirat and Mehrab – the three CBRE IM interns in 2021, at their celebration event, on completing their 6 month internships
In 2021 CBRE Investment Management entered into a partnership for the first time with ELBA Eagles as part of their commitment to increasing social mobility within the real estate industry. Nadiya Afruz was one of three local graduates recruited to undertake a 6-month internship, and this is her story.
Nadiya was placed in the UK Separate Accounts Team, where she undertook her internship before moving into a full-time role in the Europe Logistics Partners team.
It is a real marker of the success of our programme and indeed of Nadiya in particular, that she has had her placement extended into a full time role – this is of course the ultimate aim of the programme. We are grateful that Nadiya was willing to write about her experience for us:
Background and application process:
I graduated in June 2021, with a 1st class honours in BSc Mathematics from Queen Mary, University of London. Prior to CBRE Investment Management, I worked as a private tutor teaching Mathematics & Spanish at GCSE level, a Data Analyst for a non-profit organisation, and also in retail as a member of Cash Office staff. During my last year of university, I looked for jobs mainly on LinkedIn, and also the career sites of companies I knew of. At the time, I was applying for graduate schemes as an Actuary, as well as in the Asset Management field. Luckily, my career's advisor sent me this opportunity, which has allowed me to learn about a whole new industry which I thoroughly enjoy!
The application process included an initial CV/Cover Letter, and then an assessment day with ELBA in January, which consisted of a group exercise and a one-to-one interview with someone from ELBA. After passing the ELBA Assessment Centre, we had a one-to-one session with David Tomas-Merrills, who helped improve our CV/Cover Letter so that it was ready to be sent to CBRE IM. CBRE IM then reviewed these, and invited us to an assessment centre, which was a group exercise and a panel interview. Throughout the process we were given a lot of support from ELBA; specifically, before my assessment centre with CBRE IM, I had a one-to-one interview preparation session with someone from ELBA, which was a great confidence boost! Throughout the process there was really good communication – I think one of the worst parts about applying for a job is not hearing back at all – but with this programme, you are informed at each step and when you will hear by!
Then we had two weeks of training in June, just before the internship started. The sessions provided by ELBA were incredibly useful and provided a great overview of the skills I needed throughout my internship and will continue to need in my future career. A particularly great part of the training was when we created a presentation – ours was on imposter syndrome, which helped us learn a lot more about ourselves but also, we presented this to CBRE IM and the support we received was incredible! We were even asked to present a couple more times, to senior members within the company, which just shows how much they appreciated and supported us – what a great way to start the internship!
How has your experience at CBRE been?
I have now been working with UK Separate Accounts Team for almost six months and have truly enjoyed every moment. Through my experiences with this team, I have been able to understand the lifecycle of an asset, specifically, how we go from underwriting an acquisition, to managing the asset on a day-to-day basis, and then preparing for a disposal. A particularly great aspect of the placement is that from day one I have felt like an integral part of the team, specifically, they have trusted me with tasks across the fund that they would an analyst. This has been great as I've been engaged throughout my time, which has in turn allowed me to not only understand the industry but also allowed me to envision a career with CBRE IM.
The team are extremely supportive and friendly, for example, when I received my degree results in July and also turned 21, we went for a celebration lunch! As well as this, throughout my time there have been various team lunches, and now we have a few Christmas parties coming up! In addition to this, when I joined I was assigned a buddy (Claudia Leighton), who has been incredible! From day one, Claudia has shown an interest in my goals in the internship, and thoroughly explained everything I need to know. In particular, I remember when I first joined, Claudia had sat down with me to explain the funds we work on, the different keywords, and even sent me an email with links to where I can find any information I may need (which I still use 6 months later!)
And what about the future?
I will now be joining the Europe Logistics Partners (ELP team), and I am really excited for this opportunity! Through my six months as an intern, I've been able to see how the demand for the logistics sector has increased dramatically, and to join a team which focuses on this across Europe will definitely be an exciting time. Further to this, considering how high profile this particular team is, I'm sure I will have a lot of exposure to senior members, which will be great for my development and network!
In terms of future plans, once I have settled into this role, I will start to think about further qualifications (e.g. Masters or CFA), however, for the time being I am keen to get fully involved with this team and enjoy the journey. I am truly fortunate to join the ELP team, as I will be able to get involved in the numbers side, which is something I have been very keen on throughout my internship. As well as this, considering the assets are around Europe, there should be opportunities to travel (well, dependent on the pandemic!).
Do you have any tips for others thinking about applying to Eagles?
Just apply. When I was job searching, I would always look at the job description and somehow find a way to justify not applying. I would always tell myself that I don't have any experience, or there are people that went to better universities than me, but for the majority of the time, these things don't matter at all. Companies want to see that you have the skills (which you build throughout university anyway), but also that you are someone that they would be happy to work with.
Also, network!!! My internship has allowed me to see first-hand how important networking is. Throughout my 6 months, I've reached out to colleagues across different teams and countries, and that in turn has allowed me to be offered this incredible opportunity I now have! I will admit, sending that first email, or LinkedIn request is daunting, but, more often than not, people are genuinely happy to help.