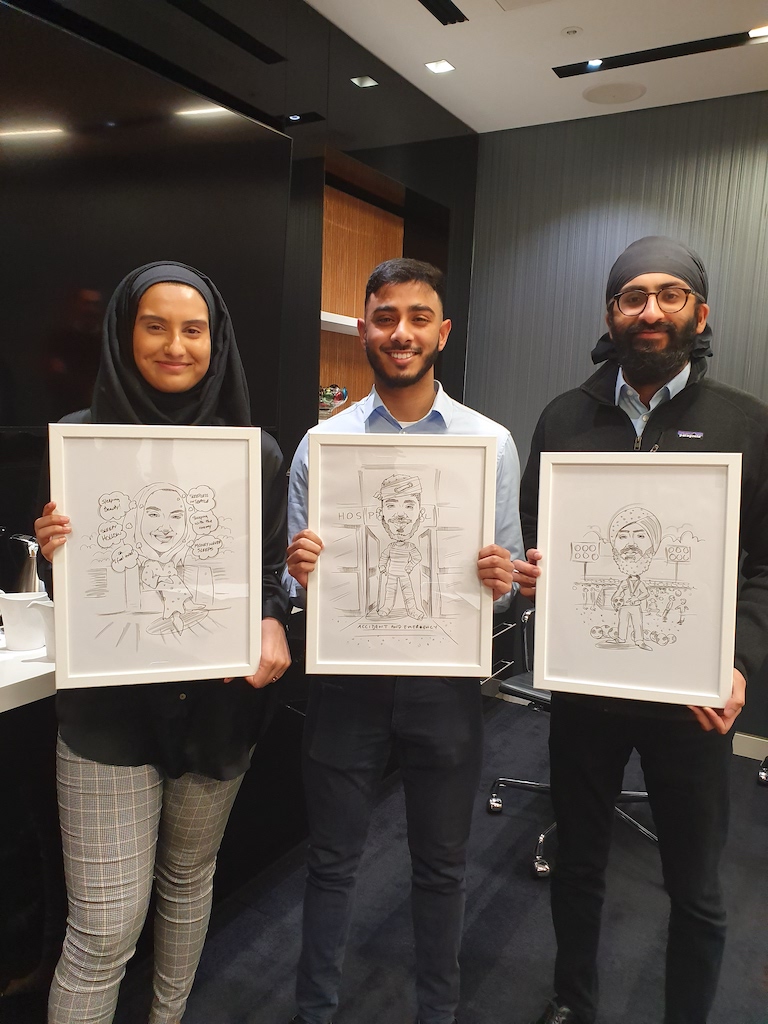 Below photo, from left: Nadiya, Mehrab and Harkirat – the three CBRE IM interns in 2021, at their celebration event, on completing their 6 month internships
In 2021 CBRE Investment Management entered into a partnership for the first time with ELBA Eagles as part of their commitment to increasing social mobility within the real estate industry. Harkirat Devgun was one of three local graduates recruited to undertake a 6–month internship, and this is his story.
Harkirat was placed in the Indirect Private Real Estate division for his internship, which involved rotations within the Global Portfolio Management and UK Regional Investments teams. Following the internship, he will be staying in his current role in the UK RIT within a full-time capacity.
It is a real marker of the success of our programme and indeed of Harkirat in particular, that he has had his placement extended into a full-time role – this is of course the ultimate aim of the programme. We are grateful that Harkirat was willing to write about his experience for us:
Background and application process:
Going back to January 2021, when I submitted my application for the CBRE Eagles programme, I was a recent graduate from Queen Mary, University of London, with a degree in Economics, Finance and Management. Yet, at the time, I still didn't have a clear vision as to what career path I wanted to pursue. Despite various work experience opportunities that I had taken part in throughout my time at university, I had realised that I still needed to develop my skillset and gain further experience in order to enhance my CV. Eagles was a programme that I had initially heard of during a session that ELBA delivered whilst I was at university, and upon hearing that they were launching a new programme (CBRE Eagles) I took notice and submitted an application.
The whole application/selection process from start to finish spanned a few months, and whilst it involved a few stages, the Eagles team provided great support to ensure that we were best equipped to succeed. Prior to potential candidates being screened by CBRE to attend an assessment day, the CV and cover letter clinics which the Eagles team organised allowed me to improve the quality of my submissions immensely.
After being selected as an Intern on the programme, the Eagles team provided all interns with a 2-week long training programme to prepare us for our placements. Alongside developing useful skills in areas such as delivering presentations, and Excel, the training provided a great chance to bond with the other interns prior to our placements.
How has your experience at CBRE been?
To think that we're almost at the end of our official 6-month internship feels somewhat surreal. The time has flown by so quickly, but I can truly say that I've learnt so much throughout my experience so far.
At the start of the internship, real estate was new to me. I had no prior experience and minimal knowledge of the industry. The firm, realising this, provided us with a great support network, partnering each of us with a buddy, as well as a mentor alongside our respective line managers – offering us various points of contact.
The projects that I've been involved in have been enjoyable as well as challenging, making for a worthwhile and rewarding experience.
And what about the future?
Following the end of my 6-month placement at CBRE IM, I am delighted to say that I will be continuing within my current role in a full-time capacity.
Do you have any tips for others thinking about applying to Eagles?
To those considering applying to any of the Eagles programmes, I would highly recommend doing so. Alongside the tailored training and support that the Eagles team provides, the experience to be gained from an extended placement within a large corporate firm offers great opportunities.
During your placement, you may realise that it's a career path that you want to pursue in the long term, and that'll be great news. Alternatively, you may decide following your placement to seek a different role, in which case the skills and experience that you will have accrued over the programme, and will now be able to leverage, cannot be underestimated.