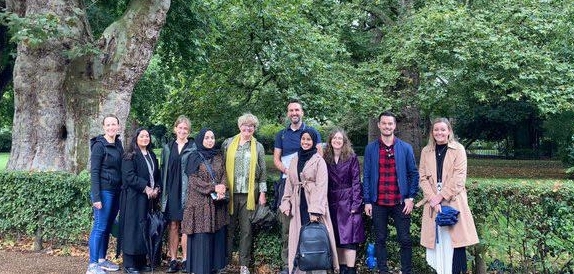 Above photo: Zaina (Middle), with the Inclusion and CSR Team and members of The Tree Council where they embarked on a guided walk around their office near Chancery Lane
Zaina Ali is one of our Corporate Social Responsibility (CSR) Eagles from our September 2021 cohort. Zaina was placed within MacFarlanes as an 'Inclusion and CSR Intern' within their Inclusion and CSR team. Zaina has now been offered a six month extension and will be finishing in September 2022. We are thankful that Zaina was happy to write about her experience for us:
Tell us a bit about your background, including your education and what you wanted to do as a career:
I graduated with a BA in Human Geography from Queen Mary University of London. Since sixth form, I've always known that I had many interests in many different things however I had thought that by the time I graduate from university, I would definitely know what career I want to be in. That was not the case – I was still unsure. Although one thing I did know was that I wanted to support vulnerable communities and also work in a corporate environment but I did not know how I could achieve both. It was at this point that I came across the Eagles programme – an internship which allowed me to be involved in charitable work whilst working in a corporate company.
My favourite aspect of the Eagles programme
Definitely the training and the recall days – the training was great as it taught us necessary skills that most of needed to use on a daily basis such as Outlook and Excel. The personal impact training with Adam Russ was also helpful as we were able to develop our presentation skills and work on our confidence levels. I really enjoyed the recall days as it's always a good time meeting up with the other eagles and helping each other solve the problems we might be facing in our jobs. I also found it beneficial to have a refresher on the training that we did pre-placement as you tend to forget what you learnt once work starts to get busy!
My experience as an Inclusion and CSR Intern at Macfarlanes LLP
I was very lucky to have been part of a cohort that was able to work in the office and not from home. It has been great meeting people in person and fully immersing myself into the world of work. My team have been very welcoming and helpful but most importantly have allowed me to oversee important projects which I believe have been crucial to my development in this position. I work within both our Inclusion and CSR departments however a lot of my tasks also overlap with marketing and communications too. The best part about my role has been being able to work with charities and schools that are in social mobility cold spots. To see a direct impact of the work that we do has been very fulfilling and I hope I can continue to contribute to this field of work in the future. I would highly encourage those interested in CSR to apply to this programme as not only will it provide you with valuable skills but ELBA will continue to support you throughout the internship and after too.